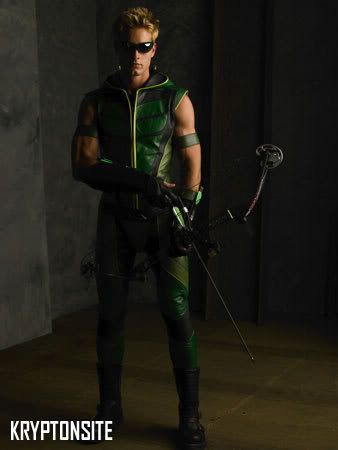 Justin Hartley lahir pada tahun 1977 dan menjadi dikenal oleh pemirsa TV karena perannya sebagai Nicholas Foxworth Crane dalam serial NBC Passions. Mengikuti kepergiannya dari film serial ini Justin terdaftar sebagai bintang dalam serial TV berdasarkan karakter DC Comics Aqua Man. Syuting Percobaannya diproduseri dan diciptakan oleh para pecipta yaitu Alfred Gough dan Miles Millar, tetapi sayangnya tidak mendapat tempat dalam jadwal The CW. tapi Syuting Percobaannya tampil di iTunes dengan sangat baik.
Walaupun Aquaman tidak "berenang" para produsernya cukup terkesan dengan Hartley cukup terkesan hingga mereka mengcastingnya dalam multi episode Smallville Season 6 sebagai Oliver Queen, sang Green Arrow.
Justin bertemu dengan istrinya, Lindsay, sementara bekerja di film serial Passions. Lindsay masih menjadi pemain tetap dalam film serial ini. Justin dan Lindsay mempunyai seorang puteri, dengan nama Isabella Justice Hartley.
Penampilannya sebelum Smallville : Film serial Passion, Aquaman
Film yang akan dibintanginya : Spring Breakdown
---
English
Justin Hartley was born in 1977 and became known to TV audiences for his role as Nicholas Foxworth Crane on the NBC serial Passions. Following his departure from Passions Justin was signed to star in a TV series based on the DC Comics character Aquaman. The pilot was produced and created by Smallville creators Alfred Gough & Miles Millar, but sadly did not get a place on the CW's schedule. The pilot did make its way to iTunes where it did very, very well.
Even though Aquaman didn't swim the producers were impressed enough with Hartley that they cast him for a multi-episode role in Smallville Season Six as Oliver Queen, the Green Arrow.
Justin met his wife, Lindsay, while working on Passions. Lindsay still is a regular actor on that series. Justin and Lindsay have a daughter, the well-named Isabella Justice Hartley.
Previous Credits: (Television) Passions, Aquaman
Upcoming Credits: (Movies) Spring Breakdown